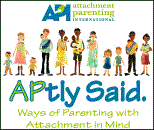 Hey mamas! There's a new blog in town and I think you should check it out. API Speaks – The voice for gentle parents everywhere launched last week with it's inaugural post and has been turning out excellent content ever since.
API Speaks is written by a group of very talented people who all have one thing in common – they practice Attachment Parenting and will be discussing their personal experiences and journeys in AP on the blog. You might notice some familiar bloggers' faces/names there and discover some new ones as well. More names will be added to the contributor list in the weeks ahead.
My first post (an oldie, but a goodie) about why we choose to have a home birth was posted there yesterday. Some other recent posts include It Takes a Village by Half Pint Pixie and Spare the crib, spoil thyself by Law and Motherhood.
Julie Artz and I, the contributing editors there, are quite proud of the blog and, in addition to great content by our wonderful contributors, have some exciting things planned for it including giveaways of AP-related merchandise, so we hope you still stop in often. 🙂
Hope to see you there! 🙂 And if you haven't yet visited API's newly redesigned web site or checked out their new online support forums, I encourage you to stop by those as well.